Zig Zag Carpet Cleaning
Adelaide's Favourite, Local Carpet & Rug Cleaning Company. We offer one of the leading carpet cleaning, rug cleaning, upholstery cleaning and end of lease cleaning services in Adelaide. If you want a carpet cleaning service that goes above and beyond, then Zig Zag is the team for you.
0400 726 970
Residential Carpet Cleaning
Commercial Carpet Cleaning
Full Service Residential & Commercial Carpet Cleaning in Adelaide
We are family owned and operated, so you get full accountability and a very high quality job, every time. We're fully qualified and highly experienced in Steam Cleaning and Dry Cleaning of residential and commercial carpets. Our services extend to professional floor cleaning including tiles, natural stone and concrete as well as upholstery which brings your fabric couches, rugs, chairs and cushions back to new. Read more about us here
Trusted & Experienced
We have helped thousands of local residence with their carpet cleaning, rug cleaning and upholstery cleaning needs.
Satisfaction Guaranteed
We always ensure the very best results when cleaning your carpets, your sofas, tiles, driveways and more.
The droppings that dust mites leave behind in dirty carpets often lead to allergy responses in sensitive individuals. These allergy symptoms include headaches, runny nose, asthma and itchy eyes. Dust and mold can easily trigger allergy symptoms while posing a risk to family members or employees who are prone to severe allergies.
Professional carpet cleaners recommend that you get a thorough clean every three to six months. The two most popular methods are dry cleaning and steam cleaning. Avoid, DIYing because hiring a professional will always produce superior results in a lot less time. The environment is important to us so we're careful to use treatments that are both child- and pet-friendly. You don't need to worry about highly toxic products when we work with your spaces.
Carpet Cleaning
Our state of the art carpet cleaning service can remove all stains, dirt and grime from your carpets.
Rug Cleaning
If you have an old soiled rug that needs to be cleaned, we are the team for you. We can restore and steam clean all rugs.
Upholstery Cleaning
Any type of upholstery cleaning you need from couches, chairs, beds and more can be professionally steam cleaned by us.
Floor Polishing
We can clean and polish stone floors, concrete floors, timber floors and have them sparkling like new again with our floor polishing service.
Commercial Carpet Cleaning
Flood Damage Restoration
We can dry, clean and restore carpets that's have been flooded from rain damage, burst pipes or whatever it may be with our flood restoration service.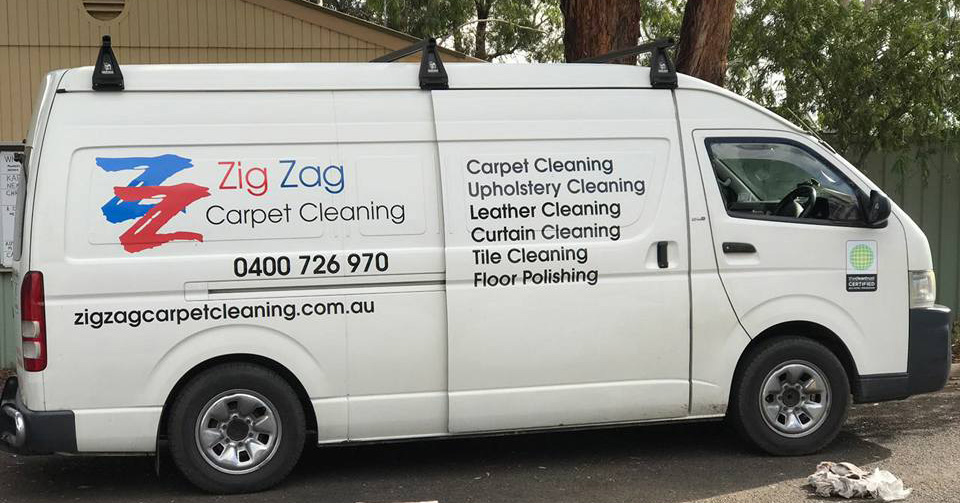 "Zig Zag did an incredible job cleaning our carpets at our investment property. There were a lot of stains and deep dirt in the carpets from the previous tenant but Zig Zag had them looking like new in no time"
"Fantastic work from Zig Zag. Our family couch was covered in dog hair and muck, and Zig Zag had it steamed cleaned and brought back to life. A+ work.